Interested In Study in Poland?
Matrixx Overseas Services can help you with the UK Study visa process. Fill in your details and we will connect with you.
Popular Courses in Canada
FREQUENTLY ASKED QUESTIONS
Most of the universities in Poland offer English-taught programs. Hence language barrier is not an issue in moving forward with your studies in Poland. Moreover, Universities offer language support services and language courses to assist students in overcoming language barriers and adapting to the academic setting.
IELTS is not mandatory to secure admission to universities in Poland. The requirement criteria depend on the university you choose to study. There are some universities that ask for an IELTS certificate, while some universities accommodate students with an MOI certificate. eligibility and procedures.
The cost of studying in Poland varies, with tuition fees ranging from EUR 2000 to 6000 per year, depending on the specific institution and study program.
Happy Clients, Proven Success
ONE OF THE BEST IMMIGRATION CONSULTANTS
Inspiring words from satisfied clients.
Partnering with Matrixx Overseas for Canada Immigration was one of the best decisions I have ever made. The top immigration consultants were extremely helpful in guiding me through every step of the way, from filling out forms to helping me understand all the legal aspects involved. They answered all my questions promptly and provided detailed advice on how to make sure everything went smoothly. Their professionalism and expertise gave me peace of mind throughout the entire process, making this a stress-free experience for me. Highly recommend!
It was a great experience with Matrixx Overseas for my Canada Immigration. The team was very knowledgeable, friendly, and helpful throughout the entire process. They answered all of my questions quickly and provided detailed information about what steps I needed to take in order for my application to be successful. Their services were invaluable and I would highly recommend them to anyone looking for assistance with their Canadian immigration needs!
I am very pleased with the study abroad assistance from Matrixx Overseas. They were extremely helpful throughout the entire process, from helping me choose which country to go to, providing advice on visas and other paperwork, as well as giving me tips for living abroad. The staff at the consultancy were friendly and knowledgeable about all aspects of studying abroad in Europe. I highly recommend their services if you are considering going overseas for your studies!
WELCOME TO TRIPZIA
Welcome To Immigration Advisory Services
Foundation was established with a small idea that was incepted in the minds of its promoters in the year 1987! We skillfully guide the applicants for their immigration process to any country they aspire to settle.
ABOUT AGENCY
An Expert Advisory For Great
Value For Visa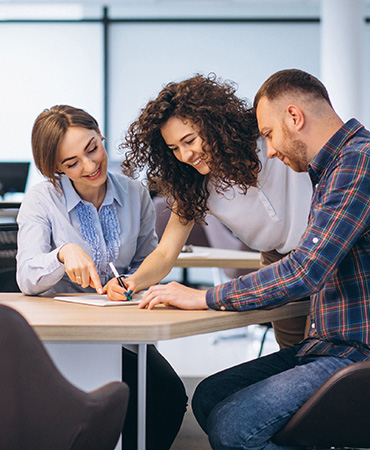 Explore our standard professtional private offices
SKILLFUL PROFESSIONALS
Meet Our Dedicated Team!
WE MAKE A DIFFRENCE
We Have Been Counselling Students For
Educational Opportunities In Foreign Countries
BLOG CORNER
In Your Inbox News