Interested In Poland migration?
Matrixx Overseas Services can help - fill in your details and we'll call you back.
FREQUENTLY ASKED QUESTIONS
Non-EU/EEA or Swiss citizens must obtain a work visa to work in Poland. However, if you are an EU/EEA/Swiss citizen planning to work in Poland for more than three months, you simply need to register your stay at a local registration office. This process serves as a notification to the Polish authorities, indicating your intention to stay and work in Poland for an extended period. It is not a visa application, but rather a straightforward method of informing the authorities about your plans.
When applying for a work visa in Poland, there are different types available depending on your specific circumstances. Here are the common types of work visas you can apply for:
National Visa (Type D): This visa allows you to work in Poland for a specific period. It is suitable for individuals who have a confirmed job offer from a Polish employer and intend to stay in the country for an extended duration.

Seasonal Work Visa: If you plan to work in Poland on a seasonal basis, such as in agriculture, tourism, or hospitality sectors, you can apply for this visa. It permits temporary employment during specific seasons or predefined periods.

Schengen Visa (Type C): If you are a non-EU/EEA or Swiss citizen and your work in Poland is short-term (up to 90 days), you may need to apply for a Schengen visa. This visa allows multiple entries into the Schengen Area, which includes Poland, for tourism, business, or attending conferences/meetings that involve work-related activities.

EU Blue Card: Designed for highly skilled professionals, the EU Blue Card allows non-EU/EEA citizens to work and live in Poland for a longer duration. To be eligible, you must possess higher qualifications, such as a university degree and a confirmed job offer with a salary exceeding a certain threshold.
It's important to note that the specific requirements and procedures may vary for each type of work visa. Consulting with a professional immigration advisor or the Polish consulate/embassy in your country will provide you with detailed information tailored to your situation.
To apply for a work visa in Poland, you will generally need to fulfill the following requirements:
Job Offer: You must have a confirmed job offer from a Polish employer. The employer should provide a written employment contract detailing the terms and conditions of your employment.

Work Permit: In most cases, your employer needs to obtain a work permit from the local labor office in Poland before you can apply for a work visa. The work permit serves as a confirmation that there are no suitable candidates from the EU/EEA available for the job.

Qualifications and Experience: You should possess the necessary qualifications, skills, and experience required for the job. This may include relevant education, professional certifications, or work experience.

Valid Passport: Ensure that your passport is valid for at least three months beyond the intended stay in Poland. It should also have at least two blank pages for visa stamps.

Visa Application Form: Complete the official visa application form accurately and provide all the required information.

Passport-sized Photos: Attach recent, color passport-sized photographs that meet the specified requirements.

Travel Health Insurance: Obtain travel health insurance that covers the entire duration of your stay in Poland. It should provide a minimum coverage of 30,000 euros and include medical expenses, emergency medical evacuation, and repatriation.

Proof of Financial Means: Show evidence of sufficient financial means to support yourself during your stay in Poland. This may include bank statements, employment contracts, or sponsorship letters.

Medical Certificate: Obtain a medical certificate from a recognized medical institution to confirm that you are in good health and do not pose a risk to public health.

Criminal Record Check: Some visa types may require a criminal record check or a declaration of no criminal record from your home country.
Happy Clients, Proven Success
Cursus porta, feugiat primis in ultrice ligula risus auctor tempus dolor feugiat, felis lacinia risus interdum auctor id viverra dolor iaculis luctus placerat and massa
Partnering with Matrixx Overseas for Canada Immigration was one of the best decisions I have ever made. The top immigration consultants were extremely helpful in guiding me through every step of the way, from filling out forms to helping me understand all the legal aspects involved. They answered all my questions promptly and provided detailed advice on how to make sure everything went smoothly. Their professionalism and expertise gave me peace of mind throughout the entire process, making this a stress-free experience for me. Highly recommend!
It was a great experience with Matrixx Overseas for my Canada Immigration. The team was very knowledgeable, friendly, and helpful throughout the entire process. They answered all of my questions quickly and provided detailed information about what steps I needed to take in order for my application to be successful. Their services were invaluable and I would highly recommend them to anyone looking for assistance with their Canadian immigration needs!
I am very pleased with the study abroad assistance from Matrixx Overseas. They were extremely helpful throughout the entire process, from helping me choose which country to go to, providing advice on visas and other paperwork, as well as giving me tips for living abroad. The staff at the consultancy were friendly and knowledgeable about all aspects of studying abroad in Europe. I highly recommend their services if you are considering going overseas for your studies!
WELCOME TO TRIPZIA
Welcome To Immigration Advisory Services
Foundation was established with a small idea that was incepted in the minds of its promoters in the year 1987! We skillfully guide the applicants for their immigration process to any country they aspire to settle.
ABOUT AGENCY
An Expert Advisory For Great
Value For Visa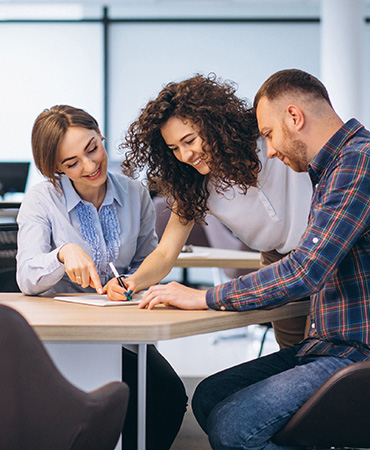 Explore our standard professtional private offices
SKILLFUL PROFESSIONALS
Meet Our Dedicated Team!
WE MAKE A DIFFRENCE
We Have Been Counselling Students For
Educational Opportunities In Foreign Countries
BLOG CORNER
In Your Inbox News