Interested In Study Australia?
Matrixx Overseas Services can help - fill in your details and we'll call you back.
FREQUENTLY ASKED QUESTIONS
The eligibility requirement depends on the course and university a student aspires to choose.  On a generic level, a candidate must have a 10+2 level of education completed from a recognized board of education, and they must qualify for a recognized English language proficiency test.
The cost to finance your studies in an Australian university while maintaining funds for your everyday expenses varies from different program.
The average cost is listed below:
Average cost for Undergraduate courses- AUD15,000 to 35,000/year
Average cost for Postgraduate courses- AUD20,000 to 40,000/year
Average cost for Doctoral courses- AUD14,000 to 40,000/year
Average cost for MBA- AUD15,000 to AUD20,000/year
The most popular Majors in Australia are social Nursing, Education, Engineering, Architecture, Psychology, and Hospitality. In general, there is a course for everyone. These programs are becoming increasingly popular as they offer many career opportunities. But there are also courses in labour, health and safety, automotive, leadership, and management for those who want to move forward and develop their personal lives.
Happy Clients, Proven Success
ONE OF THE BEST IMMIGRATION CONSULTANTS
Inspiring words from satisfied clients.
Partnering with Matrixx Overseas for Canada Immigration was one of the best decisions I have ever made. The top immigration consultants were extremely helpful in guiding me through every step of the way, from filling out forms to helping me understand all the legal aspects involved. They answered all my questions promptly and provided detailed advice on how to make sure everything went smoothly. Their professionalism and expertise gave me peace of mind throughout the entire process, making this a stress-free experience for me. Highly recommend!
It was a great experience with Matrixx Overseas for my Canada Immigration. The team was very knowledgeable, friendly, and helpful throughout the entire process. They answered all of my questions quickly and provided detailed information about what steps I needed to take in order for my application to be successful. Their services were invaluable and I would highly recommend them to anyone looking for assistance with their Canadian immigration needs!
I am very pleased with the study abroad assistance from Matrixx Overseas. They were extremely helpful throughout the entire process, from helping me choose which country to go to, providing advice on visas and other paperwork, as well as giving me tips for living abroad. The staff at the consultancy were friendly and knowledgeable about all aspects of studying abroad in Europe. I highly recommend their services if you are considering going overseas for your studies!
WELCOME TO TRIPZIA
Welcome To Immigration Advisory Services
Foundation was established with a small idea that was incepted in the minds of its promoters in the year 1987! We skillfully guide the applicants for their immigration process to any country they aspire to settle.
ABOUT AGENCY
An Expert Advisory For Great
Value For Visa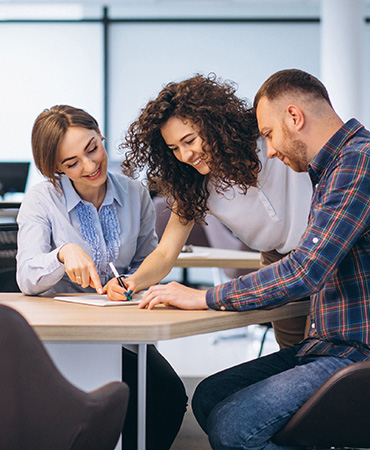 Explore our standard professtional private offices
SKILLFUL PROFESSIONALS
Meet Our Dedicated Team!
WE MAKE A DIFFRENCE
We Have Been Counselling Students For
Educational Opportunities In Foreign Countries
BLOG CORNER
In Your Inbox News